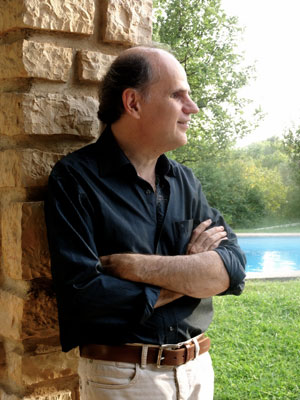 Bernard d'Ascoli was born in the South of France and began learning piano and organ at the age of eleven.
In 1974 he was one of the youngest French Baccalaureat graduate of the year and four years later, at the age of nineteen, he won the First Prize in the Barcelona International Piano Maria-Canals Competition.
Bernard d'Ascoli first came to major public attention in 1981 when he won Third Prize in the Leeds International Piano Competition.
LONDON DEBUTS
Following this success, he made his London debut both in recital and with orchestra and recorded the Liszt sonata and other works for EMI, later re-issued on CD.
Concerts
He was soon performing in many of the world's most prestigious venues including Paris, Amsterdam (Concertgebouw), Vienna (Musikverein), Geneva, Brussels, Madrid, Tokyo, Washington and the Sydney Opera House.
He has performed with most London and other British orchestras as well as with many major overseas ensembles such as the Chamber Orchestra of Europe, Boston Symphony, Montreal Symphony, under such prestigious conductors as Plasson, Casadesus, Guschlbauer, Baudo, Tortelier, Järvi, Svetlanov, Sanderling, Berglund, Leppard, Llewellyn, Pritchard, Herbig, Davis, Fischer and Menuhin.
He has participated in prestigious international festivals such as the BBC Proms, Sintra, Oviedo, Besançon or La Roque d'Anthéron.
In 2000 he was a special guest of the Sydney Olympic festivities, appearing at the Opera House both as recitalist and soloist with the Sydney Symphony.
More recently he has been the guest of the English Chamber Orchestra and the London Mozart Players conducted by Andrew Parrot, with whom he has toured nationwide including performances at the Queen Elizabeth Hall and St John's Smith Square.
British venues where he has performed recently include Oxford, Cheltenham, Chichester, while abroad he has toured Germany with the Neue Lausitzer Philharmonie and the Süddeutsche Kammersinfonie.
In 2013 Bernard d'Ascoli was given a three day tribute to his achievements as an international artist in the "Marseille-Provence, cultural capital of Europe" festivities.
Bernard d'Ascoli gives regular masterclasses in international conservatoires (Royal Academy, Royal College, Guildhall, Purcell School…). He is founder and Artistic Director of PIANO CANTABILE, an organisation based in France which is dedicated to the coaching and professional support of highly-gifted young pianists.
RECORDINGS

Bernard d'Ascoli has recorded albums of Chopin and Schumann for Nimbus and has made regular recordings as well as live broadcasts for the BBC. With Linn Records he features prominently on another Schumann CD of the Quintet and other works where he is joined by the Schidlof Quartet.
His particular affinity with the music of Chopin led him to undertake the recording of the complete Scherzi and Impromptus and a double album of  The Complete Nocturnes for the Athene-Minerva label.
The latter CD was selected as an "Editor's Choice" in the "Gramophone" magazine.
* * *
"a phenomenally warm-hearted poetic and dazzling soloist."
Edward Greenfield, The Guardian. Liszt 2nd concerto, London Festival Hall, Paavo Berglund.
"One can but marvel at first at such agile, heady virtuosity, devoid of the slightest hesitation or miscalculation. But the true wonder is of a musical nature: his beautiful, liquid sonority, transparent to the very core"
Jacques Longchampt, Le Monde. Paris, salle Gaveau
"a pianist of extraordinary artistic sensibility offered many a fresh insight into that most awkward of piano concertos."
Geoffrey Norris, The Daily Telegraph. Chopin E minor concerto, Festival Hall, Royal Philharmonic, Sergiu Commissiona.
"Here is a true musician ! … Bernard d'Ascoli distiguishes himself by his profound and balanced playing. He avoids show, without flinching at technical hurdles which are always brilliantly mastered in a superb flood of sounds."
Jacques Doucelin, Le Figaro. Paris, salle Gaveau
"d'Ascoli's playing is always special… Every note of the intense slow movement was highly charged while maintainig an operatically lyrical line…"
Robert Maycock, The Independent. Mozart concerto k. 488, Queen Elizabeth Hall, London Mozart Players, Andrew Parrott