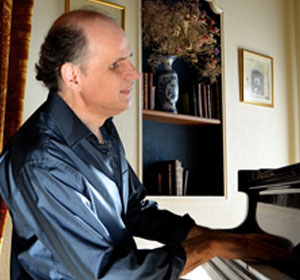 The piano offers us the huge privilege of bringing to life the great works which we love, and which deserve to be constantly revisited.
Rare are the human activities which allow us to develop our physical, intellectual and emotional potential in such a balanced way.
Whether I am playing, teaching or recording, it is the sharing of insight that gives me most satisfaction.
* * *
"on any count he is one of the major pianists of his generation."
Edward Greenfield, The Guardian. Beethoven concerto no. 1, London Royal Festival Hall, Philharmonia, Kurt Sanderling [+]
"Technical hurdles were mere child's play in this superbly mastered celebration of the piano, in which the performer attained the level of freedom of the very greatest. A masterwork has met its ideal exponent."
Jacques Doucelin, Le Figaro. Chopin sonate no.3 Paris, salle Gaveau [+]
"Bernard d'Ascoli's recital given at the Barbican Hall last night was the very acme of pianistic grace and poetic refinement."
Bryce Morrison, Daily Telegraph. London Barbican Hall recital [+]
"With his warm sonority and his profound, eloquent yet direct singing tone, d'Ascoli is a true poet of the piano."
Alain Lompech, Le Monde. Festival de La Roque d'Anthéron [+]
"his already remarkable playing has shown a steady growth in stature, adding still further to his rapidly increasing reputation as one of the most formidable pianists of his generation."
Robert Henderson, Daily Telegraph. Barbican Hall recital [+]
Go to the Playlist
YouTube https://www.youtube.com/watch?v=x6mCxG-SwFo&list=PL7C94DD65A5EBA376